We can provide private catering for whatever your event may be
This could be anything from a fully served meal for a dinner party, a delivery of lovingly pre-prepared dishes for you to serve yourself or full catering for events such as birthday parties, wedding breakfasts, christenings + funerals. 
We specialise in Grazing Tables which are proving to be a very popular and sociable way of entertaining.  Not only do they look amazing, they are filled with great homemade food, artisan meats, cheeses + breads and so much more your guests will be really impressed!
Our fully licensed cafe is also available for private hire on the evenings when we are usually closed.  This could be for a full sit down meal, bowl food or just a buffet.
Please get in touch to discuss your requirements in more details.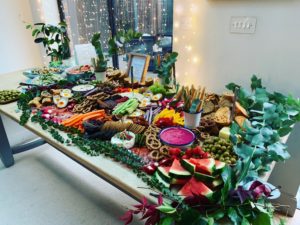 BE THE FIRST TO HEAR ABOUT MENU ADDITIONS!
Subscribe today and we'll stay in touch with our latest news,
menu changes and upcoming events at Parade + Albany.